Asparagus & Polenta With Truffle Dressing
Treasured since ancient times, truffles are among the world's great delicacies. Most come from Europe, and they are famously abundant and delicious in France's Périgord region. Here, just a small amount of this aromatic fungus complements the hearty polenta and offsets the delicate, grass-like asparagus with its earthy, delectable flavor.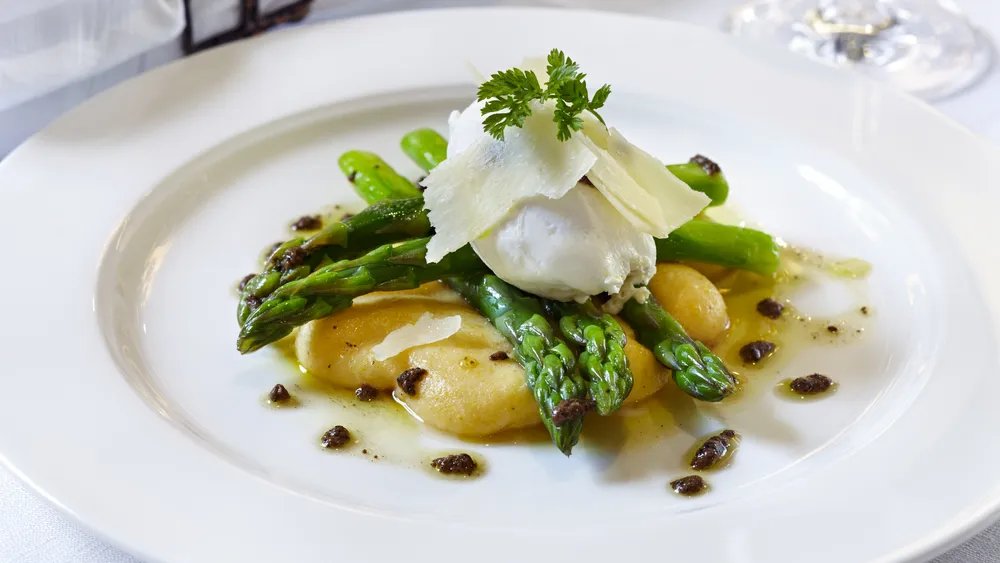 Ingredients
Truffle Dressing
3½ Tbsp (50 ml) olive oil
3 Tbsp (45 ml) champagne vinegar
1 tsp (5 ml) truffle oil
1 tsp (5 ml) black truffle paste
¼ tsp (2.5 g) salt
¼ tsp (1 g) pepper
Polenta
1¾ C (400 ml) water
½ C (100 ml) milk
¼ tsp (2.5 g) salt
¼ C (55 g) medium-grain polenta
2 Tbsp (20 g) grated parmesan cheese
¼ tsp (1 g) pepper
Asparagus
1 lb (400 g) med asparagus, ends peeled
Eggs
1 tsp (5 ml) white vinegar
2 qt (1.8 l) water
5 lg eggs
Assembly
6 oz (200 g) parmesan cheese, shaved
Directions
Truffle Dressing
Whisk together all dressing ingredients; set aside.
Polenta
In a medium saucepan, bring water, milk and salt to a boil over high heat; gradually whisk in polenta. Reduce to low and simmer, whisking constantly until creamy, about 18 minutes. Stir in cheese and pepper; transfer to a bowl; cover tightly until ready to serve.
Asparagus
Add asparagus to lightly salted boiling water; cook just until stalks turn bright green, about 2 minutes. Drain; set aside.
Eggs
Bring vinegar and water to a simmer in a 3 quart (18 cm) saucepan over medium heat. Break each egg into a separate small bowl, being careful not to break the yolk. Slide eggs into barely simmering water, an inch or so between each egg. Cook until whites are just firm, about 3 minutes. With a slotted spoon, transfer to a plate.
Note: Eggs can be poached up to a day in advance and refrigerated. Prior to plating, place in simmering water 30 seconds to heat.
Assembly
Place a spoonful of polenta on each appetizer plate; place asparagus over polenta and poached egg on asparagus. Sprinkle with parmesan; drizzle with truffle dressing. Serve immediately.
Prep time: 10 minutes.
Cook time: 25 minutes.
Makes 5 servings.