Swiss Cinnamon Stars
Cinnamon stars were first introduced into Swiss kitchens during the 1600s. Typically enjoyed at Christmas, these sweet treats incorporate ingredients that were once considered an expensive delicacy and are popular across all German-speaking countries.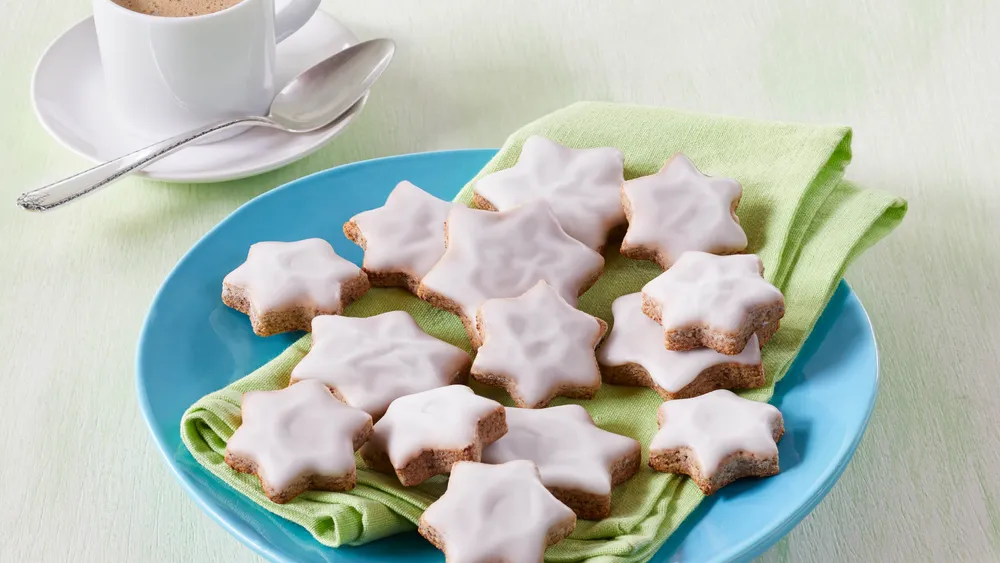 Ingredients
3 lg egg whites
Pinch salt
1¾ C (210 g) confectioners' sugar, divided
12 oz (350 g) ground almonds
1 Tbsp (9 g) ground cinnamon
Granulated sugar for dusting
2½ Tbsp (35 ml) kirsch or lemon juice
Directions
Beat egg whites with salt until they form stiff peaks; gradually fold in 1 C (120 g) confectioners' sugar. Mix in almonds and cinnamon. Transfer dough to a sugar-dusted surface; roll out ⅓-in (7 mm) thick. Cut dough with a star-shaped cookie cutter and transfer to baking sheets. Preheat oven to 375°F (190°C). Bake 8–12 minutes or until firm outside and soft in the center; cool completely on a rack. To make glaze, combine remaining confectioners' sugar with kirsch or lemon juice. Dip tops of cookies in glaze; let dry completely.
Prep time: 20 minutes.
Cook time: 12 minutes.
Makes about 48 cookies, serving size is 2 cookies.