Basel Brunsli
Brunsli originate from Basel, and literally means "brown cookie" from the German, brun Guetsli. A recipe for these first appeared in the cookbook The Sweet Basel in 1750, and today the cookies are eaten all over Switzerland during the holiday season, usually served with Mailänderli and cinnamon stars.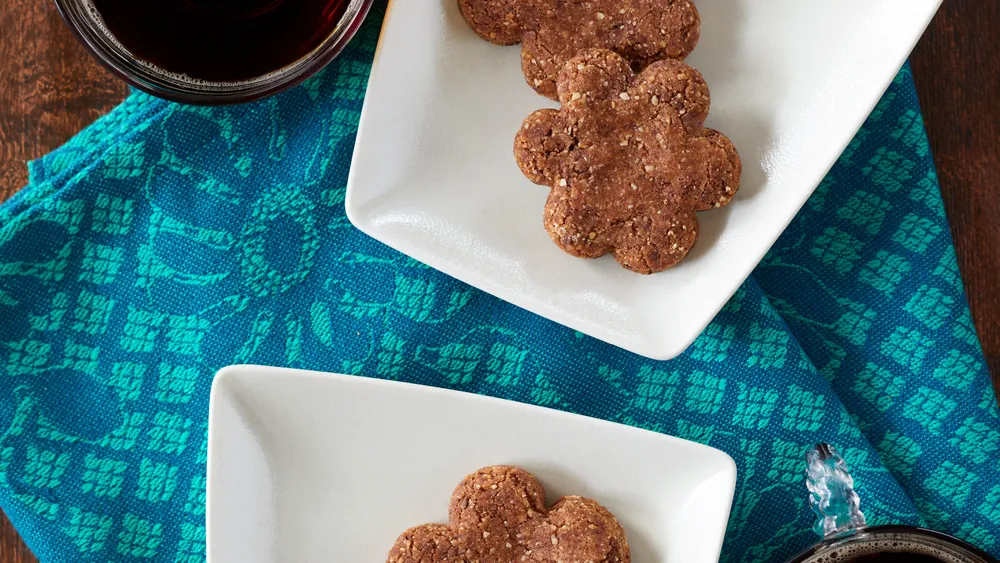 Ingredients
8 oz (277 g) whole blanched almonds
1½ C (288 g) sugar, plus more for dusting
6 oz (170 g) semi-sweet chocolate, finely chopped
1½ Tbsp (12 g) ground cinnamon
½ Tbsp (3 g) ground cloves
2 lg egg whites, lightly beaten
Directions
In a food processor, finely grind almonds, sugar and chocolate; add cinnamon, cloves and egg whites, pulsing until mixture forms a dough. Transfer dough to parchment paper sprinkled with sugar; sprinkle dough with more sugar, cover with another sheet of parchment and roll out ¼-inch (5-mm) thick. Cut out cookies with your choice of cutters. Transfer to parchment paper-lined baking sheets and let dry 3 hours. Preheat oven to 300°F (150°C) and bake 12–15 minutes or until cookies have risen. Cool.
Prep time: 10 minutes.
Cook time: 15 minutes.
Makes 60 cookies, 2 cookies make 1 serving.