Belgian Waffles
The Belgian waffle actually originated in North America, not Belgium. These are traditionally served with whipped cream and strawberries, but are also great with maple syrup and butter. Belgian waffle makers have deeper grids than a standard waffle maker, yielding a waffle that is bigger and fluffier with more space for whipped cream or syrup.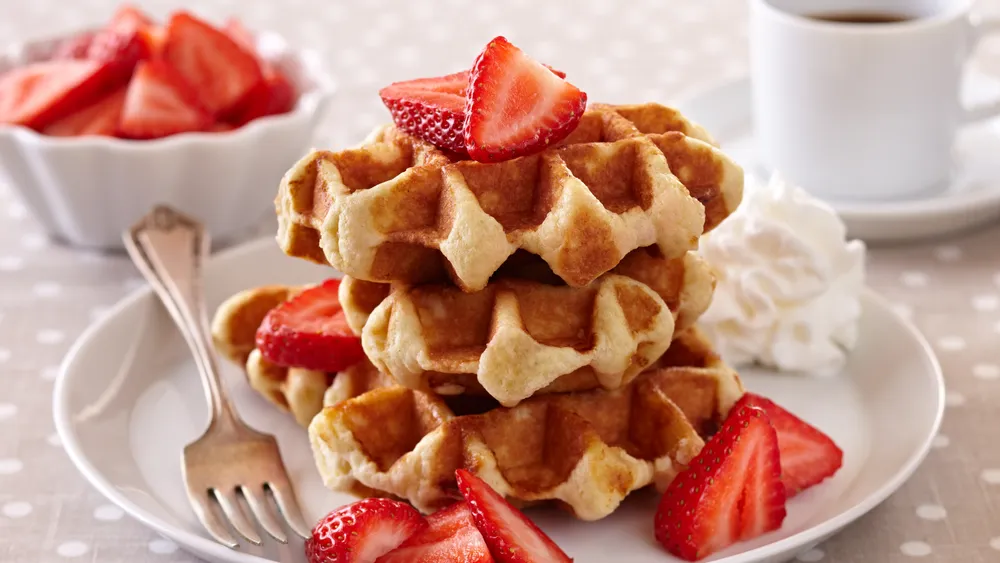 Ingredients
½ C (115 g) butter
¾ C (70 g) sugar
1 tsp (5 g) vanilla extract
Pinch of salt
3 lg eggs, separated
2 C (250 g) flour
¼ tsp (1 g) baking powder
1 C (237 ml) milk
½ C (120 ml) sparkling water
Strawberries and whipped cream to taste
Directions
Preheat waffle maker. In a large bowl, beat together butter, sugar, vanilla extract and salt until well blended and creamy. Add egg yolks; beat until foamy. Stir in flour and baking powder; mix well. Stir in milk and sparkling water. In another large bowl, beat egg whites with an electric mixer until stiff peaks form. Gently fold egg whites into batter. Working in batches, pour mixture into waffle machine and cook until golden brown. Serve with strawberries and whipped cream.
Prep time: 15 minutes.
Cook time: 25 minutes or follow the machine's instructions..
Makes 4–6 servings.