Beef Pho
Pho (pronounced like "fun" without the "n") originated in northern Vietnam during the early 20th century and was likely brought by Chinese refugees who settled around Hanoi at that time. Making the base from scratch yields outstanding results but takes time; alternately, substitute 3 quarts quality beef broth, add seasonings, simmer for 1 hour; strain and proceed.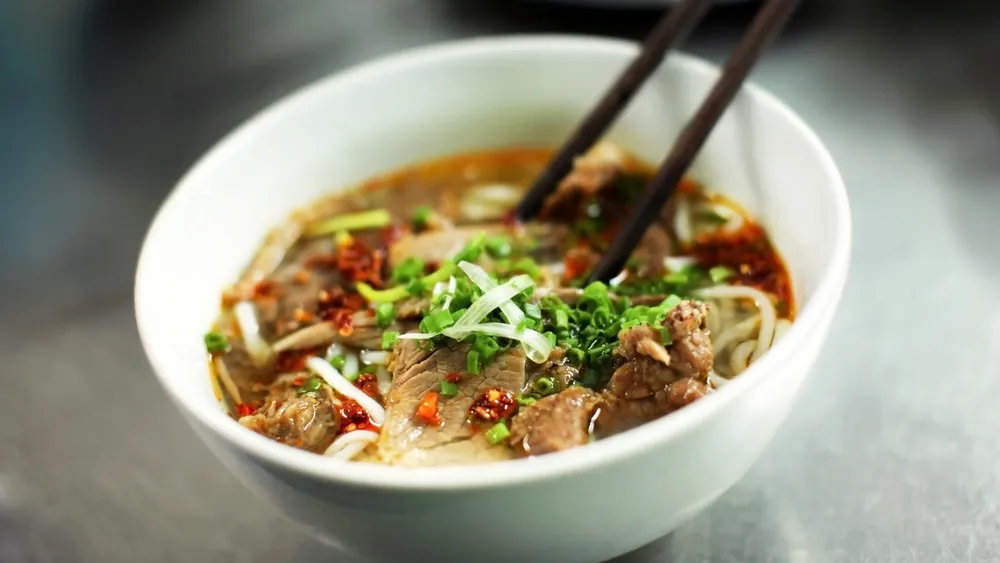 Ingredients
Broth
3 lb (1361 g) beef knuckle or hind shank
1 tsp (5 g) salt
1 onion, cut in half
2 pieces star anise
½ cinnamon stick
1 clove
½ tsp (1.5 g) peppercorns
1 slice fresh ginger root
½ Tbsp (10 g) sugar, preferably yellow rock sugar
½ Tbsp (15 ml) fish sauce
Soup
1 lb (454 g) fresh or dried banh pho rice noodles
1½ lb (680 g) sirloin, partially frozen
Accompaniments
1 sm red onion, thinly sliced
½ C (20 g) cilantro, coarsely chopped
2 C (160 g) bean sprouts
1 C (40 g) sweet basil, coarsely chopped
1 bunch green onion, thinly sliced
¼ C (60 g) Sriracha
3 limes, quartered
Directions
Broth
Place beef knuckle in a large stockpot. Add salt and a gallon of water. Bring to a boil; reduce heat; simmer 2 hours, skimming regularly. Add broth seasonings and simmer about 4 hours. Strain broth; discard bones, spices and onion.
Soup
The last 20 minutes of broth cooking, soak rice noodles in water. Once broth is finished, drain noodles.
Place strained broth in stockpot and keep at a low boil. Slice frozen sirloin very thin—enough to cook instantly; set aside. Cook noodles in boiling salted water about 5 minutes, just until soft; distribute drained noodles among serving bowls; top with beef slices and ladle boiling broth over beef.
Accompaniments
Serve with accompaniments to be added to taste.
Prep time: 12 minutes.
Cook time: 6 hours 25 minutes.
Makes 8 servings.