St. Louis Pork Steaks
First popularized by a local St. Louis grocery chain during the 1950s, these thinly sliced pieces of pork shoulder are a hallmark of outdoor grilling throughout the American heartland. The "Gateway to the West" is also known for its unique style of BBQ sauce, boasting a bewitching blend of sweet and tart flavors set off by a mild spiciness.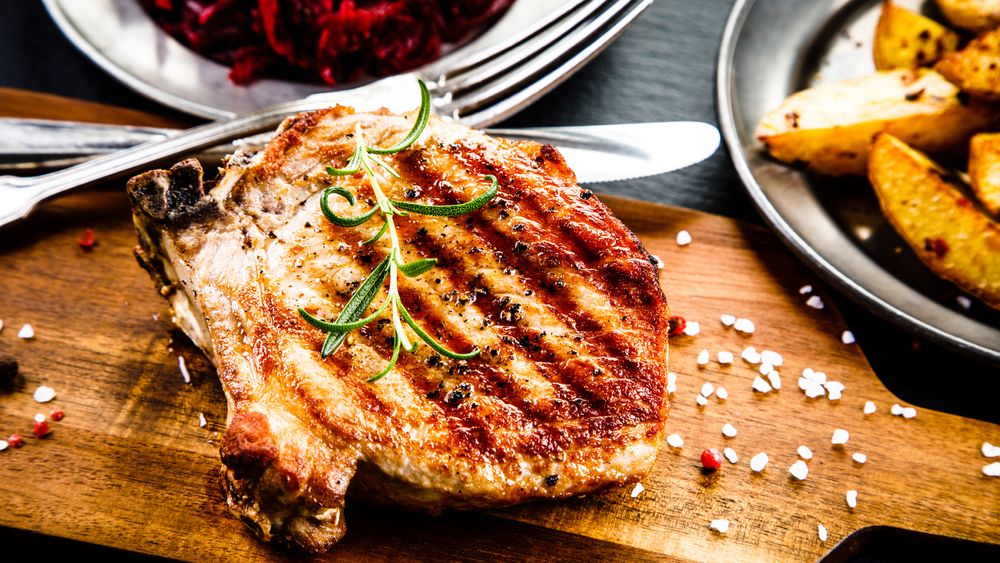 Ingredients
Steaks
4 ½-inch (1.3-cm), 6- to 8-oz (170- to 227-g) pork shoulder steaks
2–3 tsp (4–7 g) garlic powder
2–3 tsp (2–3 g) dried oregano
Coarse salt and pepper to taste
½ C (148 g) homemade St. Louis-style BBQ sauce or Maull's BBQ sauce
Plating
1½ C (444 g) homemade St. Louis-style BBQ sauce or Maull's BBQ sauce
Directions
Steaks
Set up grill for direct grilling and preheat to high. Generously season pork steaks on both sides with garlic powder, oregano, salt and pepper. When ready to cook, brush and oil grill grate. Arrange steaks on grate, placing them diagonally on bars. Grill until cooked through, 4–6 minutes per side, rotating ¼ turn after two minutes to create a crosshatch of grill marks. When done, steaks should be firm but gently yielding. As steaks finish grilling, brush on both sides with BBQ sauce and sizzle each side for 15 seconds.
Plating
Transfer grilled steaks to a platter or plates; serve with BBQ sauce.
Prep time: 15 minutes.
Cook time: 8–12 minutes.
Makes 4 servings.