Shrimp Étouffée
Shrimp are "smothered" in this rich Creole sauce; the French adjective étouffée literally means smothered or suffocated—a traditional cooking method of Creole and Cajun cuisine. The multitude of spices and seasonings in this creates an incredible depth of flavor, complementing the shrimp, and provides a satisfying and hearty meal.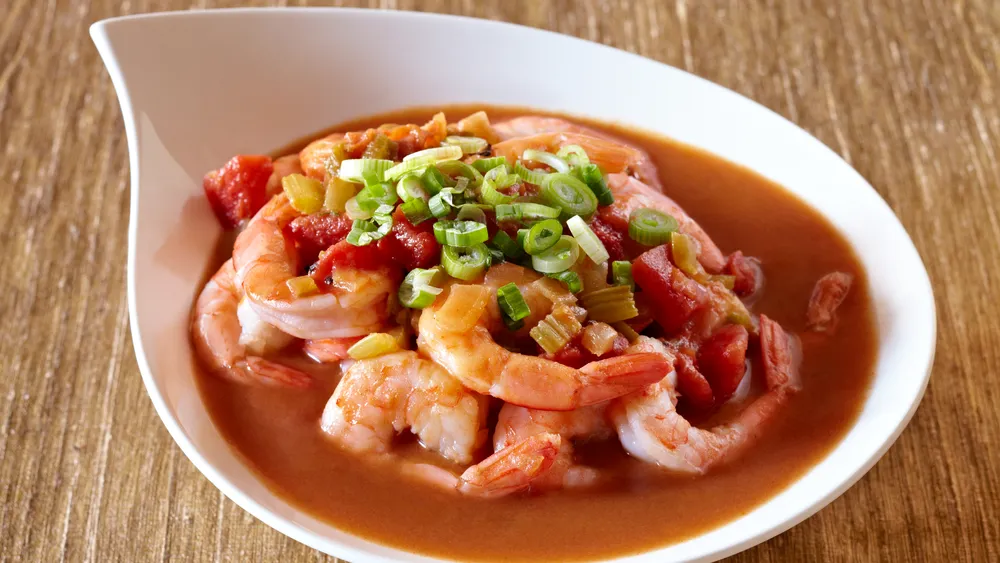 Ingredients
Shrimp
1 C (227 g) unsalted butter
1 C (125 g) flour
2 med yellow onions, diced
2 med green bell peppers, diced
1 med red bell pepper, diced
6 stalks celery, diced
2 Tbsp (17 g) garlic, crushed
¼ C (63 g) tomato paste
1 tsp (2.3 g) white pepper
1 tsp (2.3 g) black pepper
1 tsp (2.3 g) red pepper
1 tsp (3 g) celery salt
1 tsp (2.3 g) sweet smoked paprika
4 C (946 ml) shrimp stock
4 C (946 ml) water
2 Tbsp (30 ml) sherry
2 dashes Worcestershire
1 Tbsp (4 g) thyme leaves
2 bay leaves
6 oz (168 g) can diced tomatoes
3 lb (1.4 kg) med shrimp, peeled and deveined
Crystal Hot Sauce to taste
1 bunch green onions, chopped
2 C (372 g) cooked white rice
Plating
2 Tbsp (7.5 g) parsley, chopped
2 lemons, wedged
Directions
Shrimp
In a large Dutch oven, melt butter over medium; add flour and stir until light medium brown, about 10 minutes. Add onions, bell peppers, celery and garlic; cook, stirring, over low heat. Stir in tomato paste and dry spices; cook for 5 minutes more. Add stock, water, sherry, Worcestershire, thyme, bay leaves and tomatoes; bring to a boil; reduce heat to low and simmer 30 minutes. Add shrimp and cook until they just turn opaque, 3–6 minutes. Adjust seasoning; add hot sauce to taste and stir in green onion. Remove from heat; discard bay leaves. Place a scoop (¼ C/47 g) of cooked rice in the center of large bowls; ladle étouffée around rice.
Plating
Garnish with lemon wedges and parsley.
Prep time: 30 minutes.
Cook time: 1 hour.
Makes 8 servings.