Frango Na Púcara
Looking for something different for dinner? This hearty, slow-cooking chicken entrée is easy to make and features an interesting blend of flavors. The recipe comes from the city of Alcobaça on Portugal's west coast; traditionally it is prepared in a special clay pot called a púcara, but you can use any covered baking dish.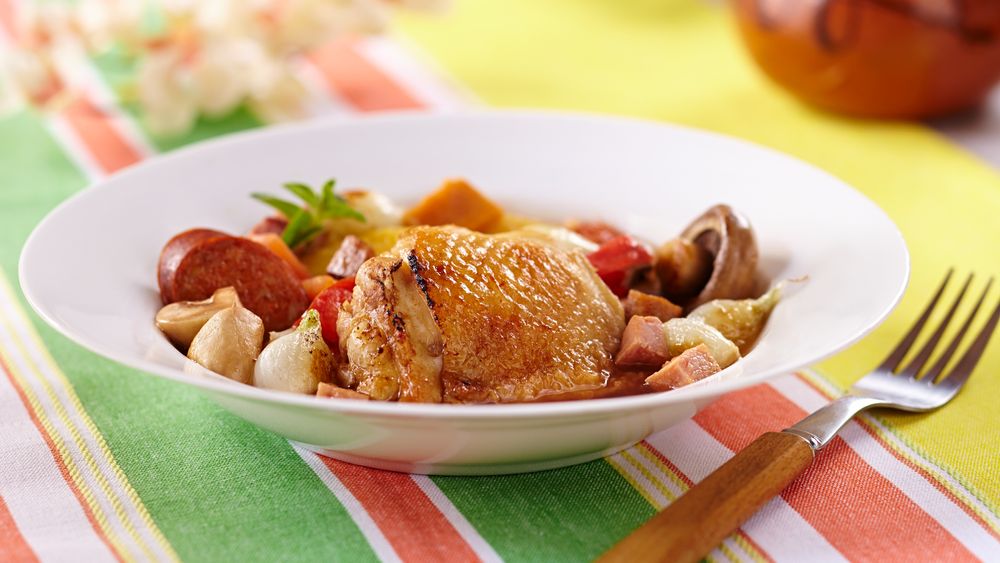 Ingredients
6–8 lb (2.7–3.6 kg) chicken, cut into 8 pieces
2 cloves garlic, crushed
2 Tbsp (31 g) Dijon mustard
Pepper to taste
1 C (150 g) smoked ham, cut into ¼-inch (0.64-cm) cubes
4 med tomatoes, skinned, seeded and diced
½ C (50 g) pearl onions, peeled
1 C (96 g) button mushrooms
⅓ C (78 ml) olive oil
1 C (237 ml) dry white wine
½ C (118 ml) port wine
⅓ C (79 ml) Macieira Royal Brandy
Directions
Rub chicken pieces with garlic and mustard; sprinkle with pepper. Chill at least 1 hour. Preheat oven to 375°F (190°C). Place chicken in a Dutch oven or lidded casserole; add ham, tomatoes, mushrooms and onions; drizzle with olive oil; add wines and brandy. Cover and bake 50 minutes; remove lid and continue baking 30 minutes more or until chicken is golden brown.
Serve with roasted or mashed potatoes, rice or crusty bread.
Prep time: 10 minutes.
Cook time: 1 hour 20 minutes.
Makes 4 servings.