Flammkuchen
Flammkuchen, which literally translates from German as "flame cake," became popular in the 1960s at the beginning of the pizza craze. You will find variations of it in much of Europe. With both a thinner crust and topping layer than a typical pizza, it is perfect served with a generous side salad for lunch or a light supper.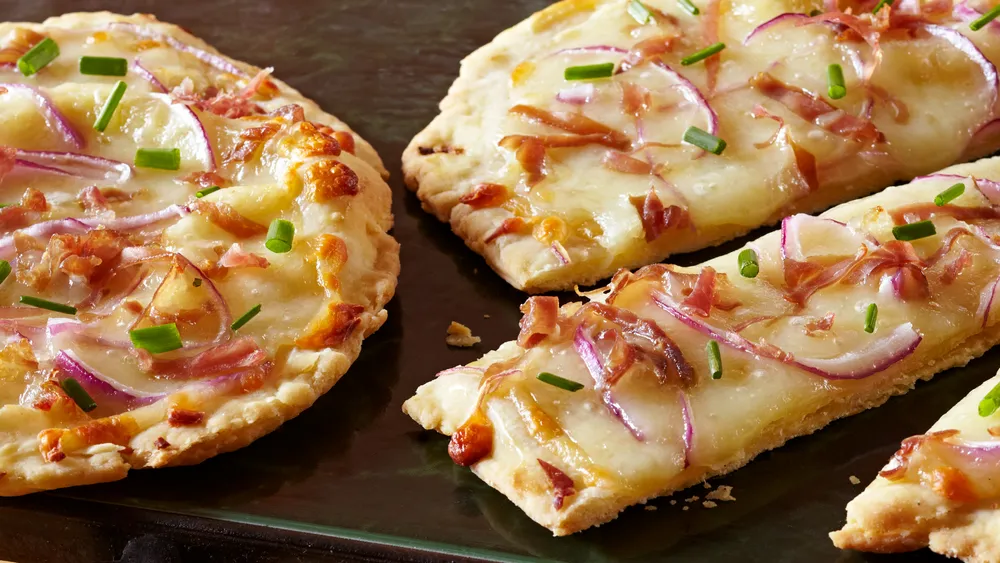 Ingredients
Dough
1 C (125 g) all purpose flour
¼ tsp (5 g) salt
3–4 tsp (13–18 g) olive oil
⅓ C (90 ml) water
Topping
2 Tbsp (15 g) sour cream
1½ oz (40 g) bacon, finely diced
½ white onion, thinly sliced
2 Tbsp (30 ml) dry white wine
1 Tbsp (15 g) spring onion, green part only finely chopped
Directions
Dough
Preheat oven to 390°F (200°C). Combine flour and salt in a bowl; stir in oil and water until mixture begins to stick together. Knead well until dough forms. Let dough rest 30 minutes. Divide into 2; dust a piece of parchment paper with flour and roll out to 1/8 inch (3 mm) thick; repeat with remaining dough. Transfer dough and parchment to baking sheets.
Topping
Spread dough with sour cream, evenly sprinkle with bacon and onion, and drizzle dry white wine on top. Bake until golden brown, about 12 minutes. Garnish with spring onion..
Prep time: 42 minutes.
Cook time: 12 minutes.
Makes 4 servings.