Carbonnade à la Flamande
Winter is the perfect time to make hearty meals that raise everyone's spirits. Unlike French stews made with wine, this Flemish carbonnade relies on the flavor of Belgian abbey-style beer. The key to making it great is the beer: we recommend Oud Bruin, an aged Belgian beer. If you cannot find this, a stout or porter works well too.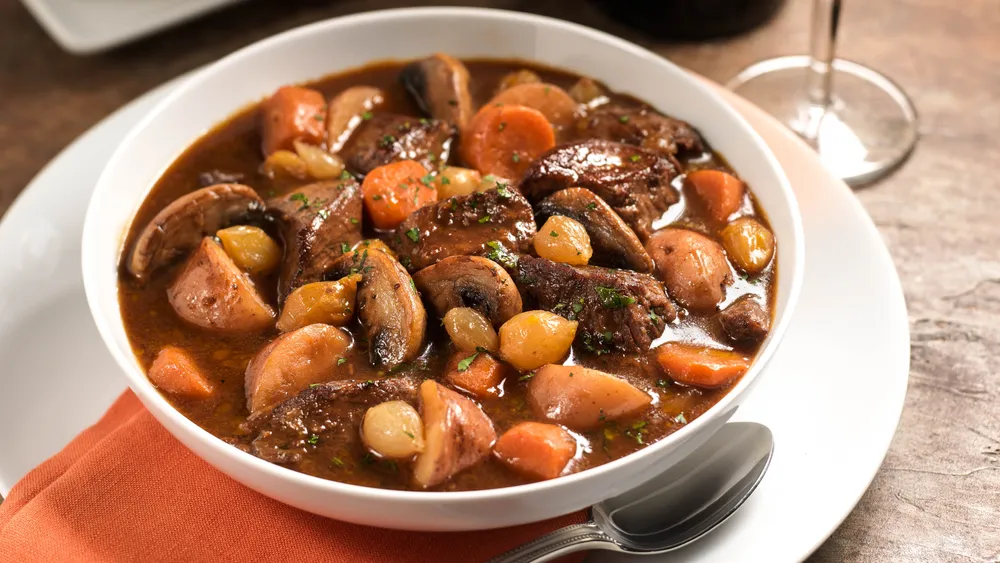 Ingredients
2 lb (907 g) chuck roast, cut into 2 in (5 cm) pieces
1 tsp (6 g) salt
½ tsp (1 g) pepper
2 Tbsp (16 g) flour
1 Tbsp (15 ml) olive oil
1 Tbsp (14 g) unsalted butter
1½ C (170 g) pearl onions, peeled
2 lg carrots, peeled and cut into ½-in (13-mm) slices
4 C (946 ml) low-sodium beef broth, divided
1 Tbsp (14 g) light brown sugar
1 Tbsp (17 g) tomato paste
2.6 oz (71 g) beef demi-glace
1½ C (355 ml) Oud Bruin beer
2 C (300 g) sm red potatoes, cut in half
8 oz (227 g) button mushrooms, cut in half
2 tsp (1.5 g) thyme, chopped
1 Tbsp (4 g) flat leaf parsley, minced
1–2 tsp (5–10 ml) cider vinegar
Directions
Season beef with salt and pepper; dust with flour. In a Dutch oven or large, heavy saucepan, heat olive oil over medium high heat; sear beef in batches, transferring to a plate as done; set aside. Add butter to pot; reduce to medium head and add onions and carrots; sauté until lightly golden, about 6 minutes. Whisk together 1 C (237 ml) beef broth with brown sugar, tomato paste and demi-glace; add to vegetables; stir in beer; bring to a boil over high heat. Reduce heat; simmer 20 minutes. Return beef to pan along with potatoes, mushrooms, thyme and remaining beef broth. Cover and simmer for 1½–2 hours, or until beef is very tender. Stir in parsley and cider vinegar to taste before serving.
Prep time: 10 minutes.
Cook time: 2 hours 30 minutes.
Makes 6 servings.