Bouillabaisse Toulonnaise
Originally cooked by fishermen using unwanted fish from their catch, this traditional Provençal fish stew is served with a creamy, saffron-scented rouille.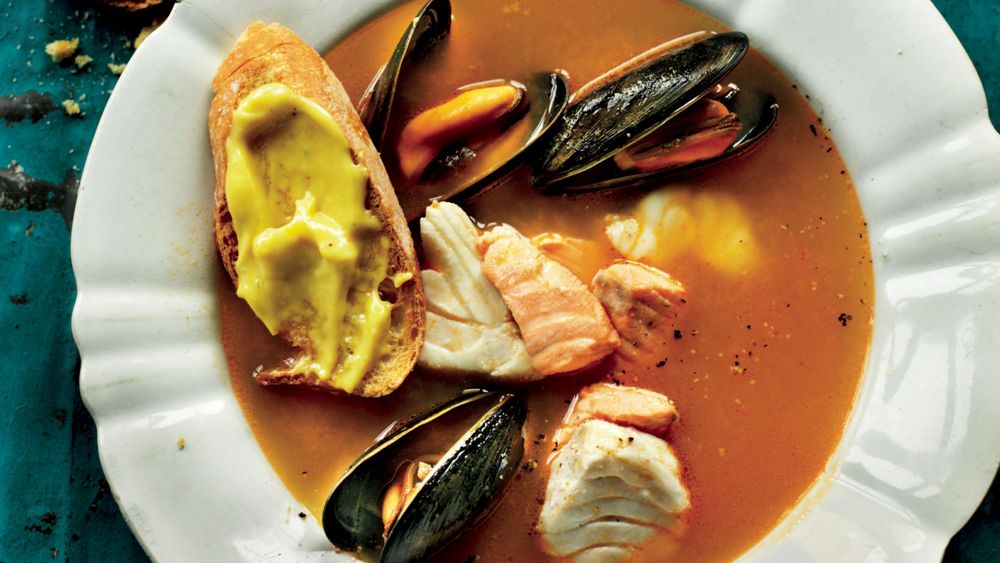 Ingredients
Broth
4 Tbsp (55 g) olive oil
4½ oz (125 g) fennel, sliced
2 red onions, chopped
1 tsp (8 g) sea salt
1 Tbsp (2 g) tarragon, chopped
½ tsp (1 g) black pepper
Fish heads, bones and offcuts
2.2 lb (1 kg) tomatoes, roughly chopped
2 Tbsp (30 g) tomato purée
1 pinch saffron threads
1 lemon, juiced
2 Tbsp (30 g) butter
Rouille
3 egg yolks
Salt and pepper
½ lemon, juiced
Pinch saffron
Pinch cayenne pepper
6¾ oz (200 ml) olive oil
2 cloves garlic, crushed
Fish
7 oz (200 g) salmon
7 oz (200 g) pollock
7 oz (200 g) monkfish
1 lb (450 g) mussels, scrubbed, beards removed
Directions
Broth
Heat the olive oil in a large pan over medium heat. Add the fennel and cook for 3 to 4 minutes without it coloring, then add the red onion, sea salt, tarragon and black pepper. Add the fish bones and offcuts and the tomatoes, then cover with water. Bring to a simmer, skimming off any residue that rises to the surface. Add the tomato purée and saffron and bring back to a simmer. Cook for about 1½ hours, or until it has reduced by about a third. Sieve the broth, pressing down the contents of the sieve with a ladle to extract as much liquid as possible, then add the lemon juice and whisk in the butter. Check the seasoning, then cool and refrigerate until needed.
Rouille
Whisk the egg yolks with the seasoning, lemon juice, saffron and cayenne pepper. Slowly add the oil in a thin stream, whisking continuously, then stir in the garlic. Add a little warm water if it is too thick. Set aside until needed.
Fish
Bring the reserved broth up to a simmer, then add all the fish. Poach until just tender, adding the firmest fillets first.
Plating
Remove fish from broth and place on a serving platter. Ladle broth over fish; serve with rouille on the side and some garlic croutons.