Viennese Crescent Cookies
These traditional cookies complement a cup of good, strong coffee. Stories would have you believe their crescent shape celebrates the defeat of the Ottoman Empire in Vienna, 1683. Whatever the origin, you will find them featured in bakeries throughout Vienna. This particular recipe calls for almonds, but you can substitute walnuts, hazelnuts or pecans—all equally delicious!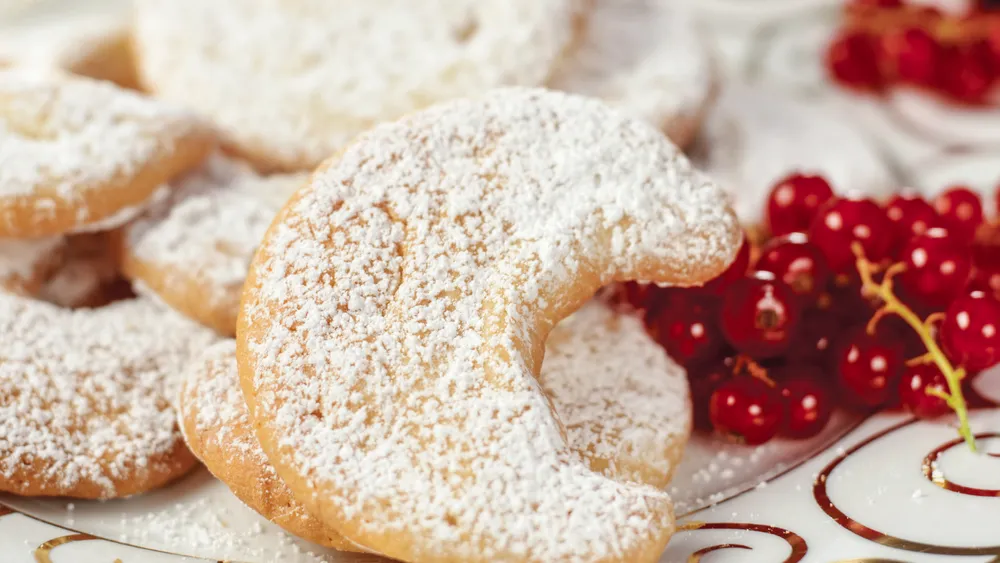 Ingredients
1 C (230 g) butter, softened plus extra for greasing
½ C (96 g) sugar
1 tsp (5 ml) vanilla extract
1 tsp (5 ml) almond extract
3 lg egg yolks
1 C (85 g) ground almonds
1 C (125 g) flour
Confectioners' sugar for dusting
Directions
Preheat oven to 325°F (160°C). Grease baking sheets. Cream together butter and sugar until light and fluffy. Add extracts and egg yolks; beat until creamy. Add almonds; stir to combine. Gradually fold in flour until completely combined. Refrigerate dough at least 1 hour. Working with a quarter of dough at a time, divide into eighths and shape each into about a 1½-inch (4-cm) crescent; transfer to baking sheet. Bake 12–16 minutes or until firm to the touch but still pale. Remove from oven; dust with confectioners' sugar while still hot. Cool; store airtight.
Prep time: 1 hour 20 minutes.
Cook time: 12–16 minutes.
Makes about 32 cookies, serving size is 2 cookies.