Russian Blini
This traditional Russian dish is somewhat like pancakes or crêpes, but made with a yeast dough that is allowed to rise. Buckwheat, a staple flour of colder climates, is typically incorporated. Often, the blini are made bite-sized and served with a variety of toppings from savory caviar and smoked salmon to sweet cream and fruit for a dessert.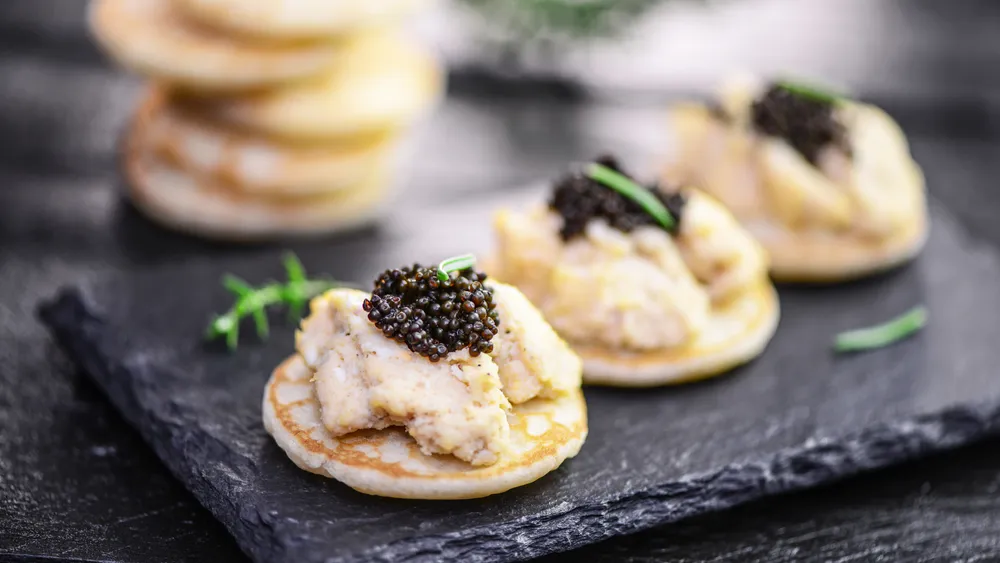 Ingredients
Crêpes
1⅓ C (166 g) unbleached flour
1 C (170 g) buckwheat flour
1 tsp (5 g) salt
2 tsp (6 g) active dry yeast
½ C (118 g) milk, warmed (80–100°F / 26–38°C)
4 tsp (19 g) unsalted butter, melted and slightly cooled
2 lg eggs, separated
¼ C (57 g) unsalted butter for frying
Directions
Crêpes
Place flours, salt and yeast in a bowl, stirring to combine. Make a well in center; add milk. Mix until smooth; cover and proof about 1 hour. Stir in melted butter and egg yolks. Beat egg whites until stiff; fold in. Cover and let stand for 20 minutes. Melt some of butter in a nonstick skillet on medium high, dropping quarter-sized amounts of dough into skillet. Cook on 1 side about 1 minute; flip and cook for 30 seconds more, cooking a few at a time until batter is finished.
Plating
Serve with caviar or smoked salmon, garnished with chopped hard-boiled eggs, minced onion, crème fraîche and dill.
Prep time: 8 minutes.
Cook time: 10 minutes.
Makes 16 servings.