Roasted Carrot Soup
The nutty, spicy seasoning of this hearty soup combined with yogurt topping gives it a unique and irresistible flavor. Made with toasted and grinded nuts and seeds, peeled carrots and chicken stock, it is easy to prepare. This sweet, nourishing and filling soup and will help keep you warm when it gets chilly.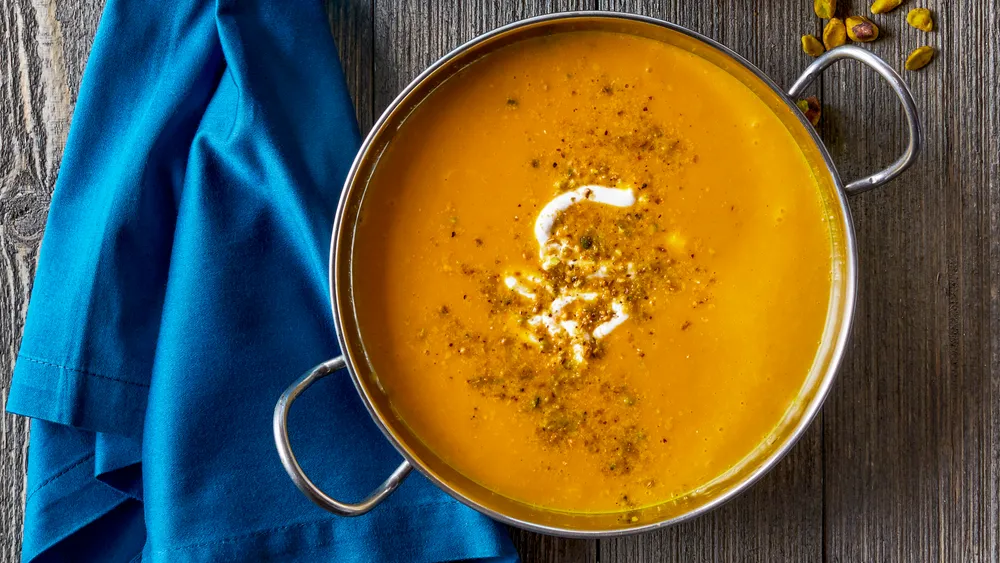 Ingredients
Dukkah
3 Tbsp (23 g) pistachios
2 tsp (7 g) sesame seeds
¼ tsp (1 g) coriander seeds
¼ tsp (1 g) cumin seeds
⅛ tsp (0.5 g) fennel seeds
⅛ tsp (0.33 g) whole black peppercorns
¼ tsp (1 g) salt
Carrot Soup
2 C (300 g) carrots, peeled and cut 1-in (2.5-cm)
2 tsp (10 g) butter, melted
Salt to taste
¼ tsp (1 g) freshly ground pepper
2 C (450 ml) chicken stock
Plating
3 Tbsp (50 g) low fat plain Greek yogurt
Directions
Dukkah
Toast pistachios in dry skillet over medium-low heat 5–6 minutes, transfer to plate; cool. Toast sesame seeds, coriander seeds, cumin seeds, fennel seeds and peppercorns 1–2 minutes; cool. Coarsely grind all ingredients with mortar and pestle or food processor.
Carrot Soup
Preheat oven to 350°F (180°C). Place carrots on baking sheet, drizzle with butter, sprinkle with salt and pepper, toss to coat. Roast 25 minutes, let cool 5 minutes, blend with stock until smooth, adding more stock if necessary. Return to saucepan; bring just to a simmer.
Plating
Ladle hot soup into bowls, drizzle with yogurt and sprinkle with dukkah.
Prep time: 15 minutes.
Cook time: 33 minutes.
Makes 5 servings.