Ratatouille
This classic Provençal stewed vegetable dish is multitalented—able to act as a flavorful base for grilled meats, an excellent side dish for poultry, or a main course for vegetarians. It also is versatile enough to be served hot, room temperature or cold, and even makes a lovely sandwich filling that can be augmented with cheese for a substantial lunch.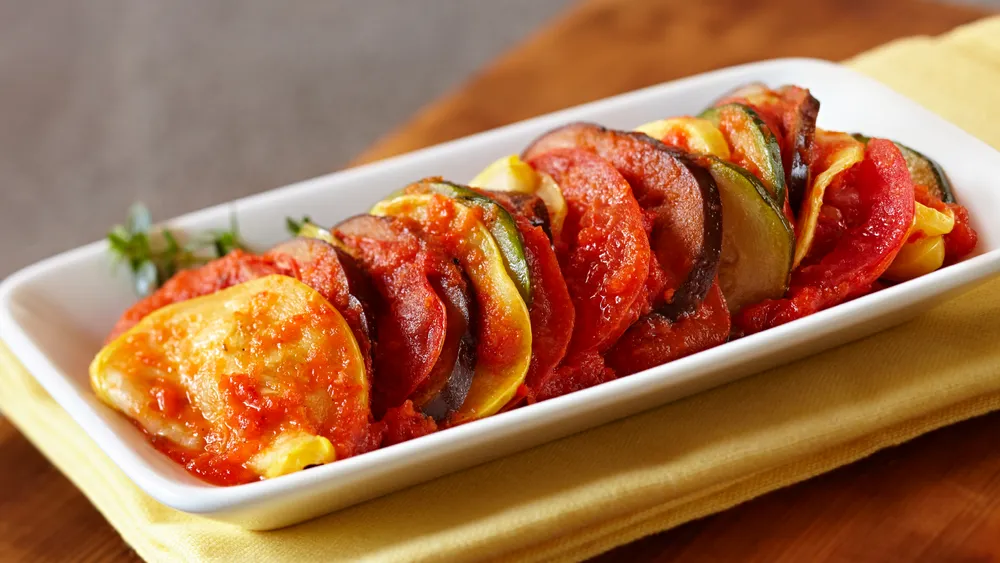 Ingredients
3 Tbsp (45 ml) olive oil, divided, plus extra for greasing
2 red bell peppers
2 tsp (6 g) minced garlic
½ C (76 g) yellow onion, chopped
5 plum or Roma tomatoes, chopped
Sea salt and freshly ground pepper
1 med zucchini, thinly sliced
1 med crookneck or yellow squash, thinly sliced
1 Japanese or Chinese eggplant, thinly sliced
4 Roma tomatoes, thinly sliced
4 sprigs fresh thyme, plus extra for garnish
Directions
Preheat oven to 350°F (177°C). Grease a 9-in (23-cm) square baking dish with olive oil; set aside. Place 1 T (15 ml) of oil in a large skillet over medium high heat and char bell pepper skins until black; let cool, and remove skin; seed, coarsely chop and set aside. Place remaining oil in skillet over medium heat. Add garlic and onion and cook, stirring often, until lightly golden. Add chopped tomatoes; simmer 20 minutes. Add bell peppers; cook 3 minutes more; season with salt and pepper. Remove from heat; cool 5 minutes; then coarsely chop. Spoon half this mixture over bottom of prepared baking dish. Alternate slices of zucchini, squash, eggplant and tomatoes in rows to fill baking dish. Cover with remaining bell pepper mixture, topping with thyme sprigs. Cover tightly with foil and bake until tender, about 45 minutes.
Prep time: 45 minutes.
Cook time: 45 minutes.
Makes 6 servings.