Hungarian Cabbage Rolls
Paprika comes in five grades of pungency: from the dark red and mild "delicacy" paprika to the very pungent light red "rose" paprika. In Hungary, paprika is not a garnish but rather an integral part of the dish. Try this delightful celebration of paprika and see why it is Hungary's national spice.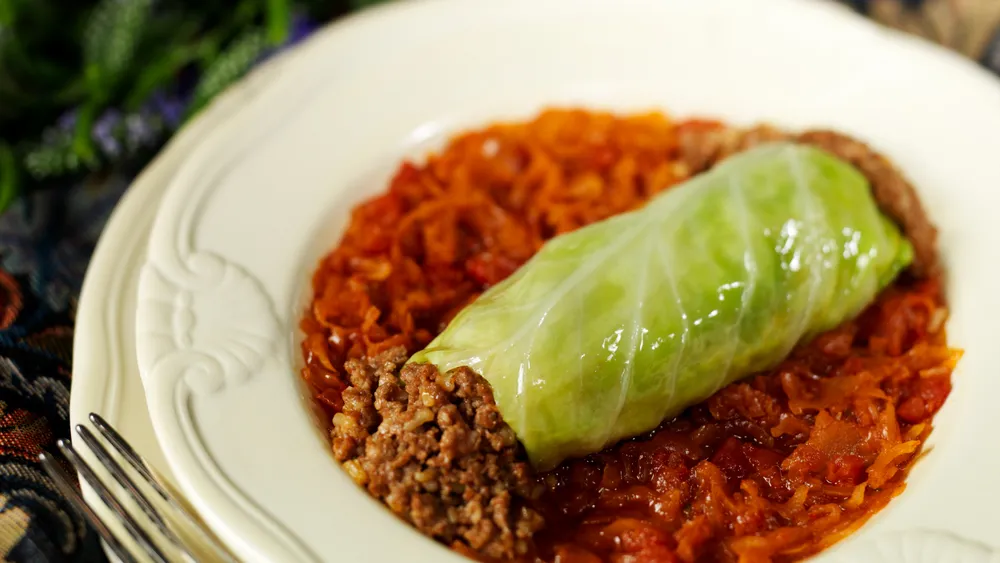 Ingredients
Filling
1 med onion, finely chopped
2 Tbsp (30 g) olive oil
1 lb (454 g) ground pork
1 lb (454 g) ground beef
2 cloves garlic, finely chopped
1 tsp (5 g) salt
2 tsp (8 g) pepper
1 Tbsp (7 g) paprika
1 C (161 g) cooked rice
Wrap
2 heads green cabbage
Large pot of boiling water
Sauce & Assembly
1 Tbsp (7 g) paprika
1 tsp (5 g) salt
2 tsp (8 g) pepper
1 (14.5 oz) (444 g) can tomato soup
1 (14.5 oz) (444 g) can sauerkraut
1 (28 oz) (858 g) can diced tomatoes
Sour cream
Directions
Filling
Sauté onion in oil until soft; add meat, garlic, salt, pepper and paprika; cook until browned. Drain off any excess fat and transfer filling to a bowl; stir in rice.
Wrap
Core cabbages; place whole cabbage in a boiling water just until outer leaves. Remove, and peel off outer wilted leaves. Return cabbage to water; repeating process until all leaves have been peeled from cabbage.
Sauce & Assembly
Combine all sauce ingredients in a pot and simmer. Place 1-2 T (14-28 g) of filling in each cabbage leaf; fold sides in and roll up. If desired, use a toothpick to secure. Carefully place rolls into sauce and simmer 60–90 minutes or until tender. Serve rolls garnished with a dollop of sour cream.
Prep time: 30 minutes.
Cook time: 60–90 minutes.
Makes 10 servings.