Dutch Hutspot
These vegetables (hutspot) with braised beef (klapstuk) are part of an annual celebration commemorating the 1574 end of Leiden's siege during the Dutch revolt against Spain. In a shrewd maneuver, the Dutch punctured their dikes, flooding the Spanish position and thus freeing Leiden. Liberators brought herring, bread and hutspot, which residents still eat today.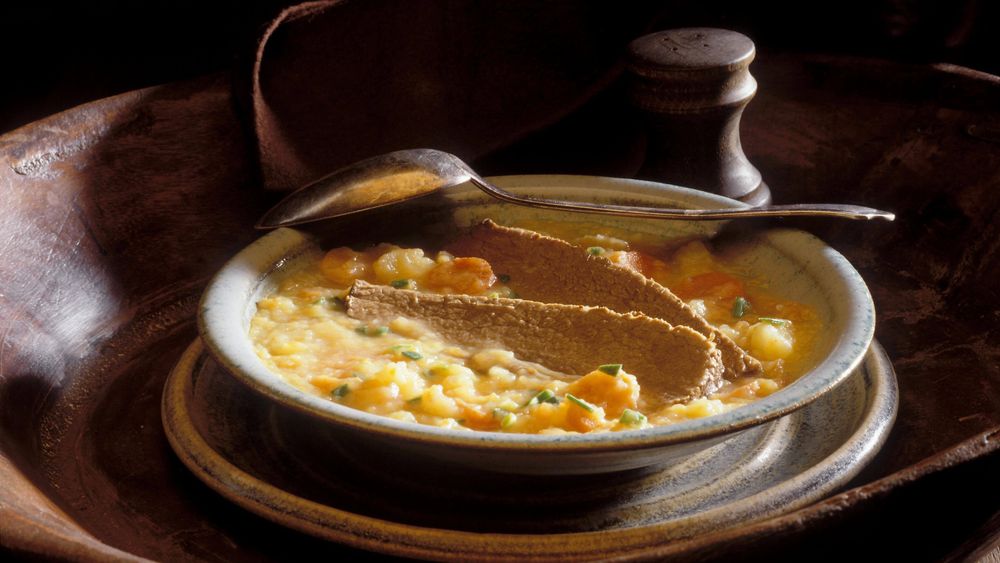 Ingredients
2 lb (907 g) beef brisket
2 bay leaves
1 tsp (5 g) salt
4 Tbsp (57 g) butter
2 lg onions, peeled and sliced
Pinch of salt
1 lb (454 g) carrots, peeled and cubed
1½ lb (680 g) potatoes, peeled and cubed
1 lb (454 g) white turnips, peeled and cubed
½ lb (227 g) parsnips, peeled and cubed
Salt and pepper to taste
Directions
Put brisket in a large, lidded pot or Dutch oven. Add 1 quart water, bay leaves and salt. Bring to a boil; reduce heat to medium, cover and cook at least 2½ hours, turning meat halfway through.
Melt butter in a heavy skillet over medium heat; add onions and salt; cook until soft and golden, 6–8 minutes. Remove bay leaves from brisket and discard; add cooked onions and remaining vegetables to brisket. The liquid should just cover meat and vegetables; if it does not, add water. Bring to a boil, reduce heat, cover; cook more 30 minutes until vegetables are soft.
Remove meat; keep warm. Remove 2 C (473 g) of liquid; reserve for another use. Mash vegetables in remaining liquid with a masher, leaving some lumps, aiming for a loose, fluffy texture. Add salt and pepper to taste.
Spread vegetable mash on a serving platter and top with brisket sliced thinly across the grain. Offer sharp mustard on the side.
Prep time: 12 minutes.
Cook time: 3 hours.
Makes 6 servings.