Spätzle
These delightful dumplings are favorites of southern Germany; their name comes from Swabian dialect and means "little sparrows." They are indeed delicious little bites in any language. Here, we have improvised how to shape them so you can try them at home—just use a colander with fairly generous-sized holes. These are also outstanding with cheese and bacon.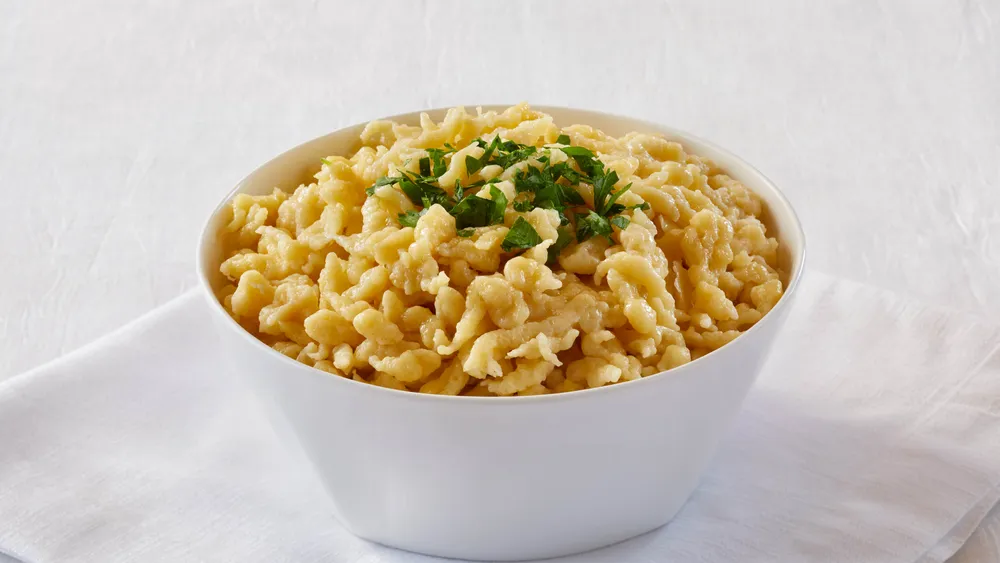 Ingredients
3 C (375 g) flour
¾ tsp (5 g) salt
Pinch nutmeg
3 lg eggs, beaten
2 Tbsp (5 g) water, more or less as needed
5 Tbsp (72 g) unsalted butter
Directions
Bring a large pot of salted water to a boil. In a medium bowl, combine flour, salt and nutmeg; pour eggs into middle of flour mixture; beat with a wooden spoon. Stir in enough water to make dough slightly sticky yet still elastic. Place dough in a colander with medium holes, and press dough through holes directly into boiling water. Let dumplings cook until they rise to surface, about 5 minutes. Lift out with a slotted spoon; drain on paper towels. Working in batches, place butter in a large skillet over medium high heat; add noodles and cook until lightly golden, about 5 minutes. Serve hot.
Prep time: 8 minutes.
Cook time: 10 minutes.
Makes 6 servings.