Corn Maque Choux
This dish of fresh corn with trinity vegetables and Cajun seasonings is traditional Acadian French fare. If you cannot find tasso ham, just use smoked sausage, country ham or bacon. This version is a robust side dish, perfect with blackened fish; or you can add crawfish, shrimp, crab or toasted okra to serve it as a main dish.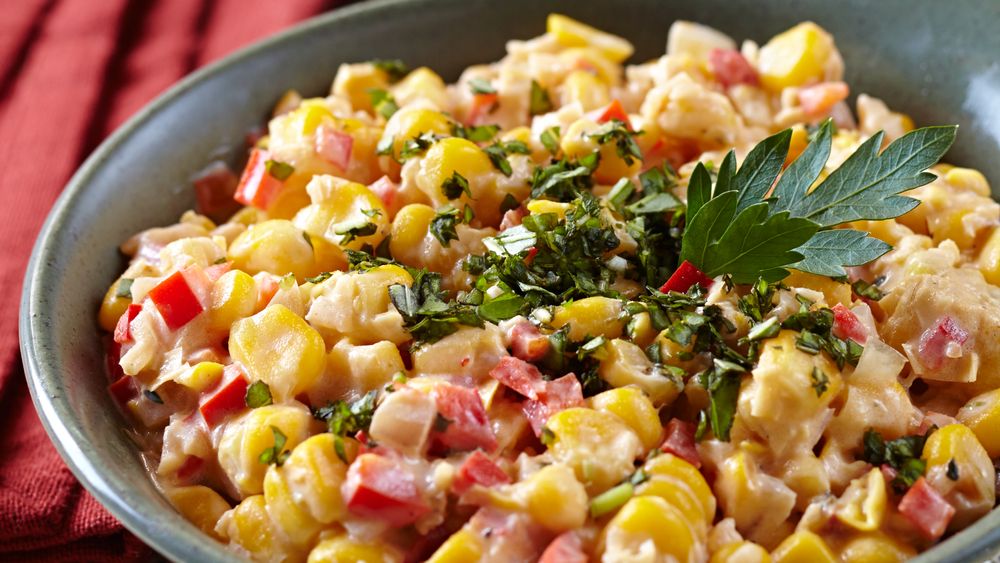 Ingredients
4 ears white corn
4 ears yellow corn
3 Tbsp (43 g) unsalted butter
1 Tbsp (15 ml) bacon drippings, or vegetable oil
2 med yellow onion, finely diced
1 med green bell pepper, finely diced
1 med red bell pepper, finely diced
1 Tbsp (15 ml) water
2 med tomatoes, seeded and diced
1 Tbsp (10 g) crushed garlic
½ tsp (0.5 g) thyme leaves
½ tsp (2.5 g) celery salt
Salt and pepper to taste
Dash cayenne pepper, optional
1–2 Tbsp (15–30 g) cream, if needed
Garnish
2 Tbsp (6 g) chives, cut into ½-in (13-mm) pieces
6 oz (170 g) tasso ham (Cajun-style ham), diced and cooked crisp
Hot sauce
Directions
Shuck the corn, remove all silks and wash. Cut kernels from cob and transfer to a medium bowl. Use the back (dull side) of a knife to scrape off as much of remaining kernel pulp and juice as possible (this helps make the dish thick and creamy); add to kernels and set aside. In a large frying pan over medium low, melt butter and bacon drippings; add onions and peppers; cook, stirring often until tender. Add corn, water, tomatoes, garlic and seasonings, stirring to combine. Cook, stirring occasionally, 20–30 minutes or until corn is tender and the mixture is creamy. Add cayenne to taste and cream if needed to adjust consistency.
Garnish
Garnish with chives and ham, and serve with hot sauce.
Prep time: 20 minutes.
Cook time: 45 minutes.
Makes 8 servings.