Shrimp With Pan-Fried Noodles
Chef Martin Yan of the award-winning Yan Can Cook TV show, created the Chinese menus for Viking River Cruises China ships, and shared this favorite recipe with us. He notes the key to perfect noodle pancakes is shaking the pan to prevent sticking. These pancakes are great accompaniment for a variety of other dishes too, so feel free to experiment.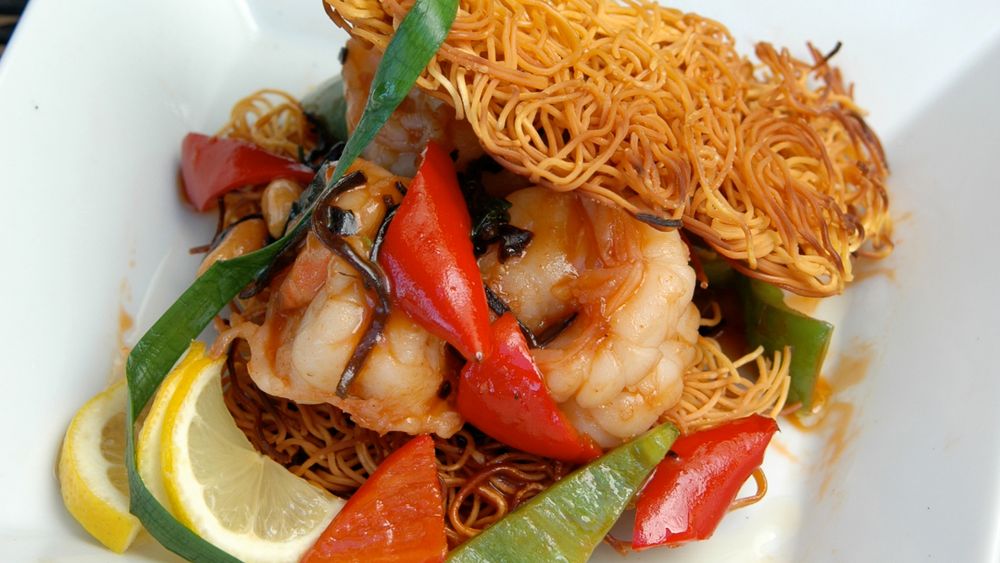 Ingredients
Sauce
½ C (122 g) ketchup
½ C (118 ml) water
2 Tbsp (30 g) sweet chili sauce
1½ Tbsp (11 g) curry powder
Noodle Pancakes
16 oz (454 g) fresh Chinese egg noodles
1 tsp (5 ml) sesame oil
2 Tbsp (30 ml) vegetable oil, divided
Shrimp
1 Tbsp (15 ml) peanut or vegetable oil
1 Tbsp (10 g) lemongrass, minced
2 cloves garlic, minced
1 tsp (5 g) ginger, minced
2 green onions, cut into 2-in (5.1-cm) pieces
½ green bell pepper, chopped
½ red bell pepper, chopped
1 lb (454 g) med shrimp, shelled and deveined
1 Tbsp (15 ml) sesame oil
Directions
Sauce
Combine all sauce ingredients in a small bowl and mix well. Set aside.
Noodle Pancakes
Add noodles to a large pot of boiling water; cook for 1 minute; drain and rinse under cold water. Toss with sesame oil; set aside. Heat a wide nonstick frying pan over medium and add 1 T (15 ml) of vegetable oil, swirling pan to coat. Spread half of noodles evenly in pan and cook about 5 minutes. Turn; cook another 5 minutes until golden brown. Shake pan a few times to prevent noodles from sticking. Transfer to a baking sheet and keep warm in a 200°F (100°C) oven. Repeat with remaining noodles and oil.
Shrimp
Heat a large wok or wide frying pan over high heat; add oil, swirling to coat. Add lemongrass, garlic and ginger and cook, stirring constantly, for 15 seconds. Add bell peppers and green onions; cook for 1 minute, stirring constantly. Add shrimp and cook, stirring constantly, about 2 minutes or until they begin to curl and turn opaque. Add sauce; cook until it boils and thickens slightly. Add sesame oil and toss to combine. Serve over noodle pancakes.
Prep time: 10 minutes.
Cook time: 15 minutes.
Makes 4 servings.