Eight Precious Vegetable Stir-Fry
This vegetarian entrée is a snap to prepare. Created by celebrity chef Martin Yan, who designed the menus for Viking's China ships, it appears in his Quick & Easy cookbook. The number eight has been regarded by the Chinese as a lucky number for a long time, so the dish may bring you good fortune as well.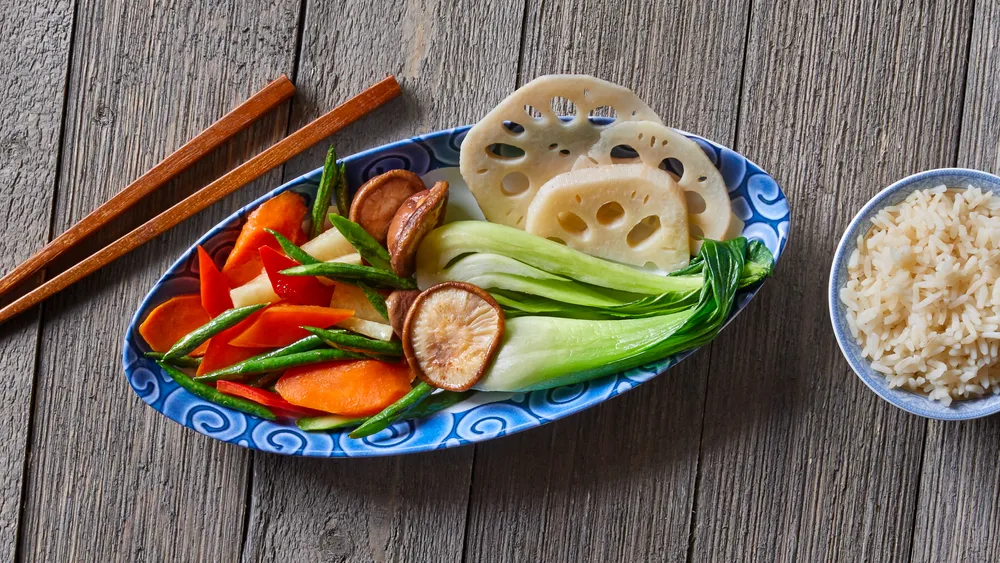 Ingredients
Sauce
2 tsp (6 g) cornstarch
4 tsp (18 ml) cold water
½ C (118 ml) low-sodium vegetable or chicken broth
4 tsp (18 ml) rice wine or dry sherry
1 Tbsp (15 ml) oyster-flavored sauce
1 Tbsp (15 ml) soy sauce
1 tsp (5 ml) toasted sesame oil
2 tsp (8 g) sugar
¼ tsp (0.6 g) white pepper
Stiry-Fry
1 Tbsp (15 ml) peanut oil
1 tsp (6 g) garlic, minced
½ tsp (10 g) ginger, minced
½ C (32 g) carrots, peeled and sliced
½ C (65 g) jicama, peeled and sliced
½ C (60 g) lotus root, peeled and sliced
8 Chinese long beans, cut into 1-in (25-cm) pieces
4 heads baby bok choy, quartered lengthwise
8 small shiitake mushrooms, stems removed
2 Tbsp (30 ml) water
½ med red bell pepper, seeded and cut into 1-in (25-cm) diamonds
4 med asparagus spears, trimmed and thinly sliced diagonally
Directions
Sauce
To make the sauce, whisk cornstarch and water together in a small bowl. Add remaining sauce ingredients, stirring to combine; set aside. Heat a wok or large skillet over high heat; add oil, swirling to coat sides. Add garlic and ginger and cook, stirring constantly until fragrant, about 10 seconds. Add carrots, jicama, lotus root, long beans, bok choy and mushrooms; cook 1 minute, stirring constantly. Add water, cover, reduce heat to medium low and cook 3 minutes. Remove cover, turn to medium high heat, add bell pepper and asparagus and cook, stirring constantly, 1 minute. Add sauce and cook, stirring until sauce boils and thickens.
Prep time: 15 minutes.
Cook time: 6 minutes.
Makes 4 servings.