Shrimp & Crab Wontons
Many regions of China have different varieties of wontons. The meaning of the word also varies: in Mandarin, it means "slowly boiled dumpling," but in Cantonese it means "swallowing clouds." These versatile, delightful dumplings can be steamed, poached in soup, or fried and served with dipping sauces. This style below is typical of Cantonese cuisine.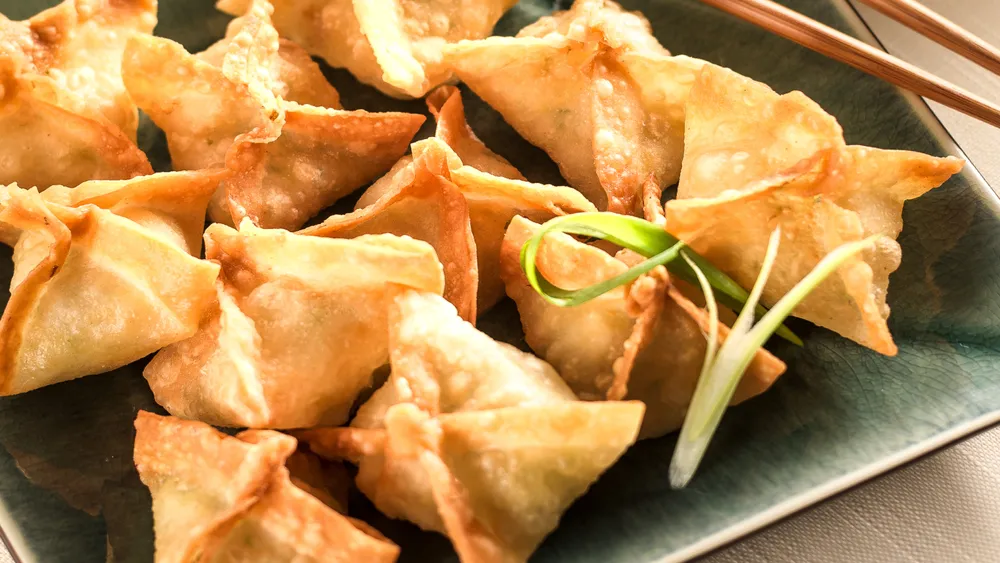 Ingredients
½ C (170 g) finely shredded cabbage, preferably Savoy
Kosher salt to taste
6 oz (170 g) shrimp and lump crabmeat, chopped
1 C (50 g) spring onions, finely chopped
1 Tbsp (14 g) ginger purée, or finely grated ginger
1 tsp (5 g) soy sauce
1 tsp (4 g) sesame oil
1 Tbsp (15 g) cream cheese
1 14-oz (398-g) pkg wonton wrappers
2–3 C (473–682 g) vegetable or peanut oil
Directions
Combine cabbage, salt, shrimp and crab, onions, ginger, soy sauce, sesame oil and cream cheese in a bowl and mix well. Separate wonton wrappers and arrange on a dry surface. Place a scant tsp of filling in center of each wrapper; wet edges and seal by bringing opposite corners together, forming a triangle. Bring 2 remaining corners together toward center and seal with a pinch.
Preheat oil in a medium saucepan over medium heat. Working in batches, fry wontons until golden brown, about 6 minutes. Remove with a slotted spoon and transfer to paper towels. Serve hot with your favorite dipping sauce, such as hoisin; sweet and sour or Chinese mustard.
Prep time: 22 minutes.
Cook time: 36 minutes.
Makes 8 servings.